Company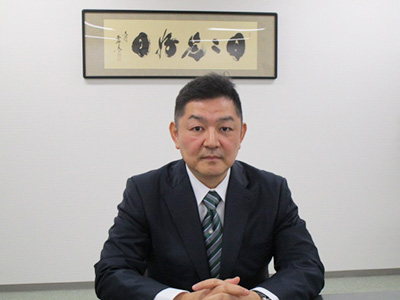 "Giving shape to wishes of our customers." Not changing this basic policy, we, at Ishiyama Co., Ltd., have been earnestly pushing forward for half a century since our founding in 1968. We are a manufacturer and have been engaged in sales of physical and chemical appliances for production equipment, parts machining, equipment design, production of control software, and assembly of automatic machines, and planning and development. We have been achieving satisfactory results across national borders with our customers mainly in the liquid crystal display and semiconductor industries.
In order to give proper shape to wishes of our customers, "sincerity" is essential. We always keep in mind to respond sincerely to all our customers, suppliers, and affiliated companies. This "sincerity" drives us all to act as one team, and our team play is our greatest strength. Thus, "sincerity" is our business philosophy incorporated in our DNA.
Our business philosophy, "sincerity," has come from our founder, Akio Ishiyama, who is currently the Chairman. His philosophy of life is "Being sincere in everything." He started his career as an apprentice carpenter in the family business. Then, he experienced various professions until he founded our company. Through his career, he has met many people in various fields and received supports and directions from them. His philosophy of life has been cultivated through his experiences. With sincerity, we do the right things in the right way for our customers. What are the right things to do for our customers? We think we must assure the delivery date, quality, after-sales services, and better production environment for our customers. Our way of business is rather honest and simple. However, due to it, we have been receiving the deep trust from our customers, suppliers and affiliated companies as a company that is surely beneficial for them.
These days in advanced nations in the world, various industries have been forced to change due to the rapid progress of IT technologies, decreasing birthrate and aging population, etc. The manufacturing industry in Japan is not exceptional. I think that we stand at the crossroads in such a situation. We have decided to continue to be the "production technology research organization" of our customers as ever. Simultaneously, we must develop the next-generation human resources and synthesize new technologies with our skillful image processing technologies and industrial robot technologies. As a manufacturer of production equipment, we have been providing stable production environment to our customers and helping them launch their new products on an earlier timing. Currently, we aim to develop to be a manufacturer of production systems that enable producing the maximum results with the minimum resources. Thus, we are at a big turning point and under magnificent challenges to grow to be a significant company for the Japanese-style manufacturing, monozukuri.
We, at Ishiyama Co., Ltd., will continue to challenge resolutely and sincerely toward future development. We hope you will look forward to our new challenges and we appreciate
your continuous favors and supports.
Koji Ishiyama
President